Contract Express: Legal document and contract automation
A productivity solution that automates and simplifies the drafting of legal documents. Discover how better drafts lead to faster results.
What is Contract Express?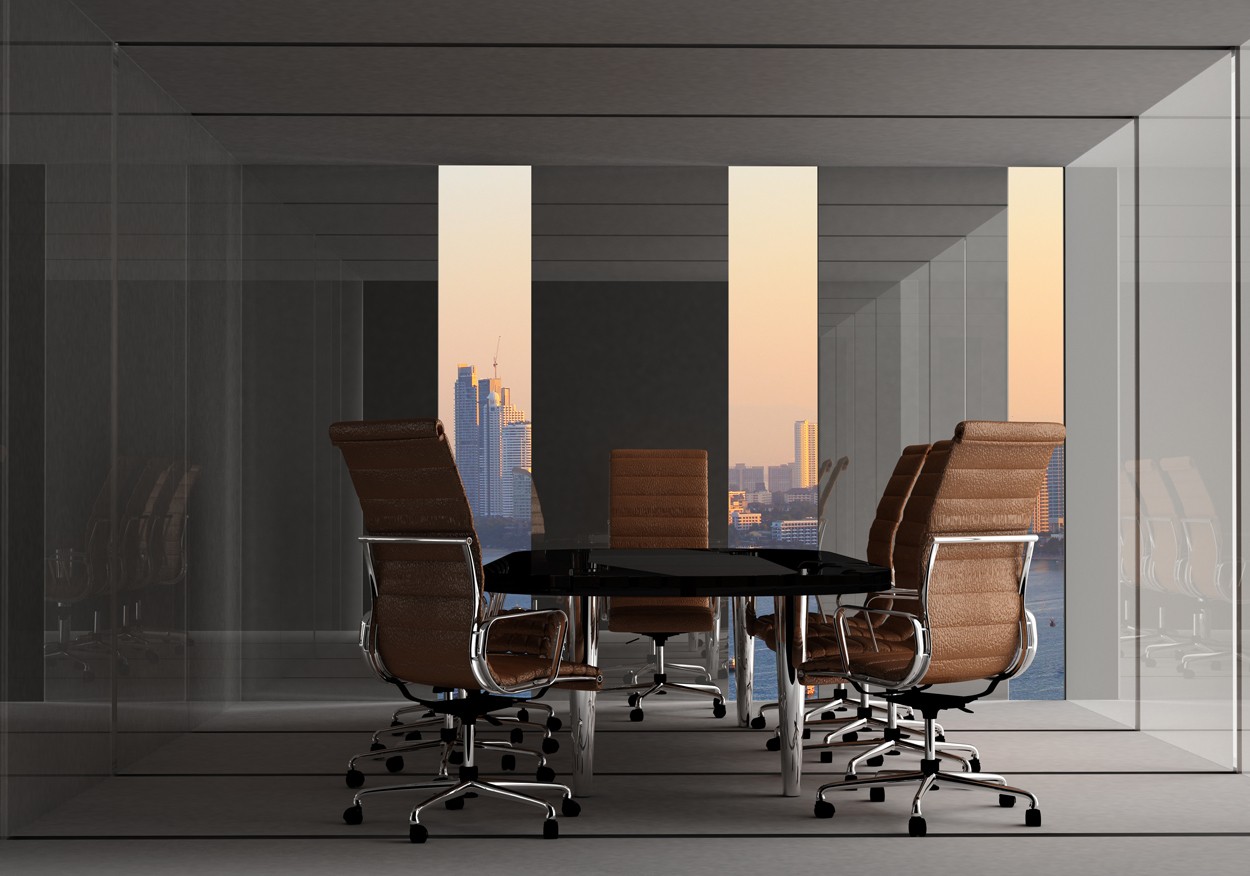 02:22
Thomson Reuters Contract Express - For law firms
Contract Express is much more than just legal document automation software. It uses intuitive questionnaire technology for fast and accurate document drafting and enables firms to offer innovative client facing services. Contract Express understands the way lawyers work. That's why it's a solution of choice for leading law firms worldwide.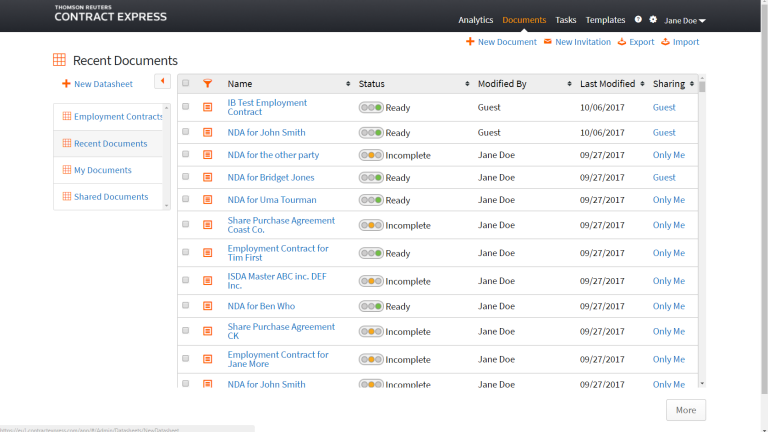 Contract Express quickly automates contracts you frequently use, increasing productivity by reducing steps in the drafting process. Users generate these draft documents by filling out web-based forms called questionnaires. The forms are created automatically from your organisation's own templates or from services such as Practical Law.
---
If you have a Practical Law subscription, you can get access to nearly 300 ready to use automated templates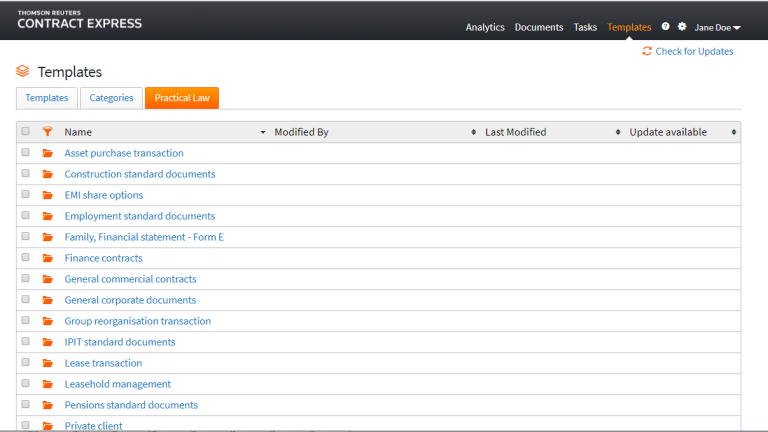 ---
Document questionnaire form
Get to your first draft quicker with easy to use dynamic questionnaires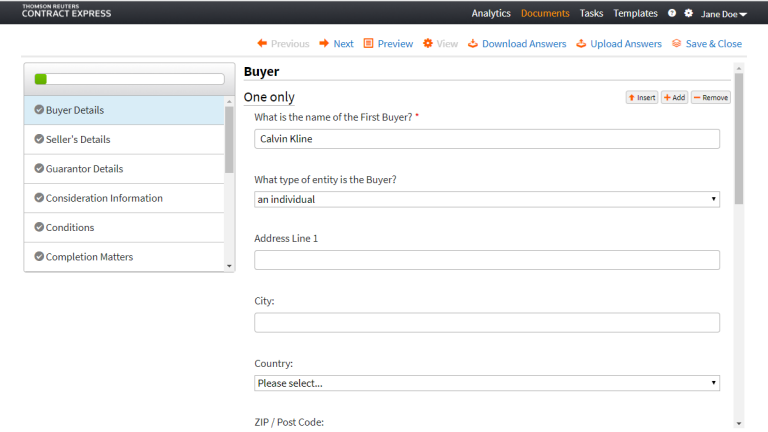 ---
Each document you are working on has a summary page that you can tailor to your needs. It includes a document version history and other useful information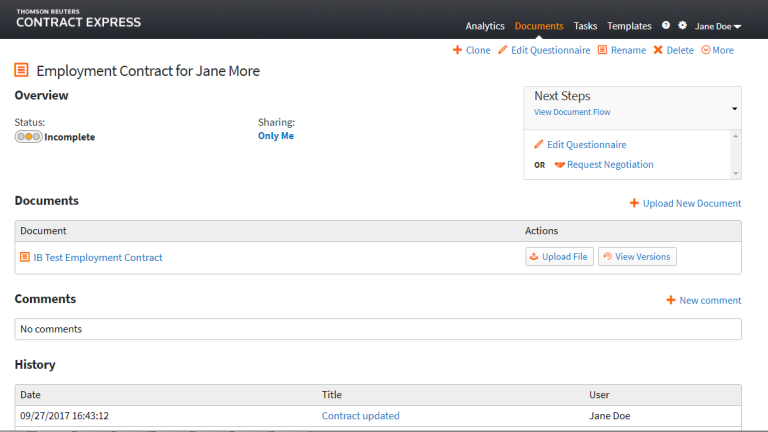 ---
Your analytics dashboard shows statistics on document automation productivity, template popularity and overdue documents. You can also create reports showing documents awaiting approvals, awaiting signature and more.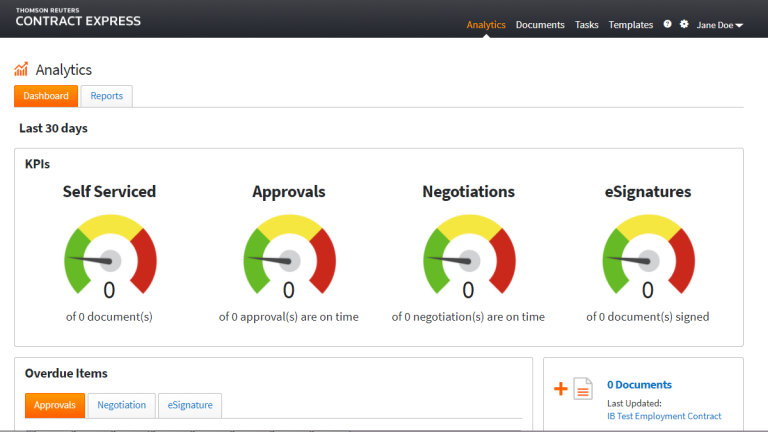 ---
The preview mode in your questionnaire shows you how the document changes in real time, in line with your answers.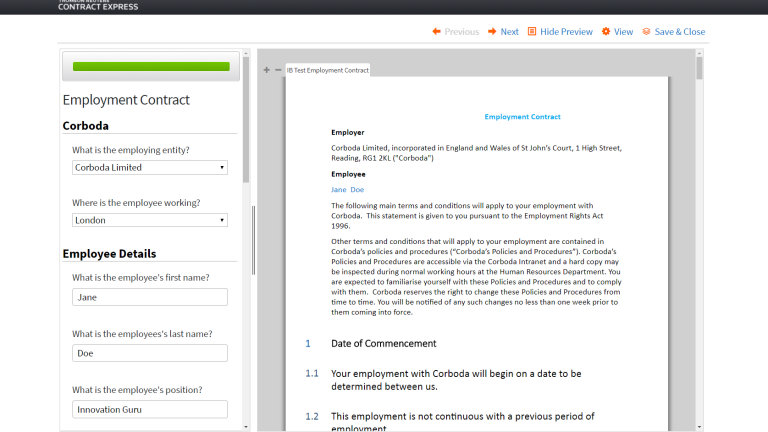 Amount of time saved with Contract Express versus manually drafting a contract, according to our latest user survey.
Free yourself to work on higher value tasks
Contract Express integrates with Practical Law so you're equipped with industry standard documents from the starting line. You can proceed with full confidence that you're working with the most up-to-date and accurate version of a document type.
The software features a patented template automation tool for MS Word that, unlike all other document automation products, understands lawyers' square bracket legal markup notation. This means lawyers can automate and update the most complex legal documents without needing an IT specialist or programmer.
The precision and speed acquired through this innovative technology will differentiate your legal service from the competition. Clients will benefit from easy collaboration with associates through a secure client portal, and your firm's advanced efficacy and improved compliance will be a selling point for new work.
Capabilities and features
---
Provides a better user experience
Offers a customisable dashboard for a law firm or client
Employs mobile first design
Has a preview mode to observe changes as they're being made through the questionnaire
Supports a range of lawyers' needs
Recognises lawyers' square bracket legal markup notation with Contract Express Author
Assists associates and paralegals with Contract Express Drafter
Facilitates easier contract negotiation with Contract Express Negotiator
Integrates with Practical Law
Scales to your size or usage requirements
Manages high volumes of complex contracts
Generates repetitive secondary deal documents
Enables clients to complete a questionnaire to send to an associate for review
Technology that meets your requirements
Works perfectly on mobile devices, whether it's a smart phone or a tablet, the features will adapt to the screen size available for drafting and review on the go.
Provides first class integration with your organisation's business systems such as client, matter, billing and accounting systems.